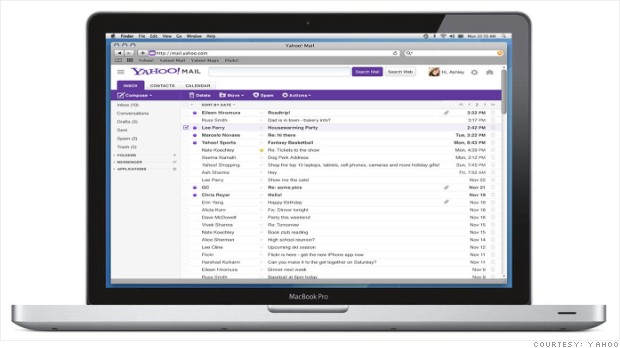 Yahoo on Tuesday rolled out an entire suite of email apps for every major relevant platform: all-new Apple iOS and Windows 8 apps, plus redesigned clients for Android and the Web.
Yes, Yahoo Mail still exists. The update is one of the first major product overhauls released by new CEO Marissa Mayer, who pledged to revamp Yahoo's languishing collection of Web sites and apps.
Yahoo once dominated search and email, and it was one of the earliest players in instant messaging and online news aggregation. Then, of course, it all went south. By the time Yahoo lured Mayer away from Google, it was barely even a shell of its former self. With her hiring came promises to restructure the sprawling company, remake the products, and transform Yahoo into an innovator that can compete with the Googles, Facebooks, Microsofts, Apples and Twitters of the world.
Yahoo Mail general manager Vivek Sharma says Mayer was actively involved in the email revamp.
"She's played an unbelievably pivotal role in product direction and design," Sharma said. "She has an unbelievably intuitive understanding of what users want and need."
The new suite of email apps aren't life changing, but they at least offer a good experience for dedicated Yahoo users and show that the company is aware of what it needs to do to not only hang around, but actually make people care.